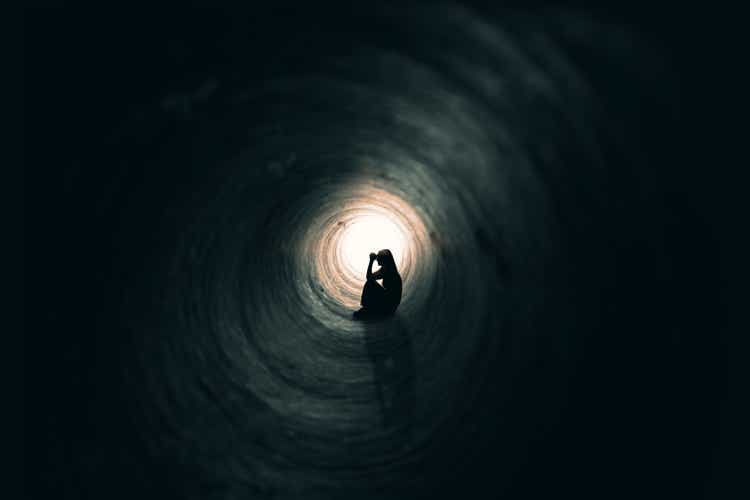 introduction
Intracellular therapies (Nasdaq: ITCI), a leading biotechnology company, is dedicated to creating and commercializing novel small molecule therapies, primarily intended to address unmet healthcare needs. Their primary focus is on neurological, psychiatric and neurological conditions, via Manipulating intracellular signaling pathways in the central nervous system.
Their first drug, Caplyta (lumateperone), received FDA approval in December 2019 as a treatment option for schizophrenia in adult patients. By December 2021, Capletta had received another FDA approval, this time to treat bipolar depression in adults. Currently, Lumateperone is in Phase 3 clinical trials, with the goal of treating major depressive disorder.
In the past, I was look Caplyta is an effective and well-received treatment for bipolar depression, causing fewer side effects compared to other antipsychotics. This led to a rapid growth in revenue, which indicates the huge potential of Caplyta. However, the The next challenge is the expiration of Caplyta's new alchemical entity [NCE] The Singularity in December 2024.
With no generators of great value beyond Caplyta, Intra-Cellular may need to rely on Orange Book patents for exclusivity. Hence, as I looked at shares of Intra-Cellular, valued at about $4 billion, at a reasonable price, I gave a "hold" recommendation while also noting some upside potential. Since the recommendation, shares of Intra-Cellular are up 32%.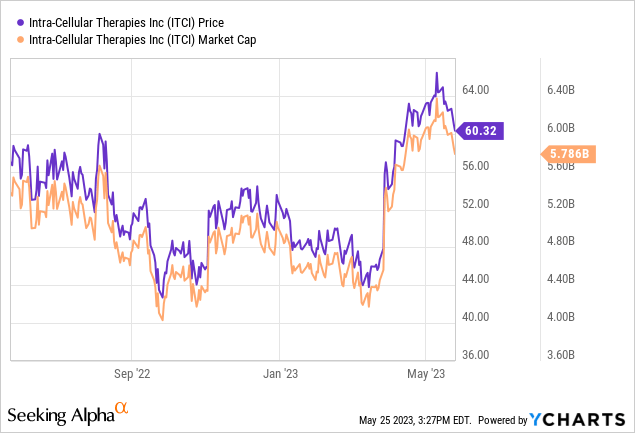 Recent developments: Results from Study 403 indicate that daily administration of lumateperone significantly reduced depressive symptoms, as measured by MADRS, and reduced disease severity, as measured by CGI-S, in a cohort of 192 patients. Lumateperone displayed a stable side effect profile, confirming its safety and tolerability.
Financial statements Q1 2023
In the first quarter of 2023, Intra-Cellular reported total revenue of $95.3 million, up significantly from the $35.0 million in the first quarter of 2022. Caplyta net sales increased to $94.7 million, up 173% year-over-year. Capletta prescriptions also rose 16% sequentially. However, the net loss was $44.1 million, lower than the loss of $72.1 million in the first quarter of 2022. Product sales and GAS expenses were $6.8 million and $98.9 million, respectively. Research and development expenditure increased to $38.0 million due to increased project costs. Cash and cash equivalents amounted to $540.5 million. The company reaffirmed its financial projections for fiscal year 2023, projecting sales for Capletta between $430 and $455 million.
Review of earnings calls for the first quarter of 2023
On its recent earnings call, Intracellular Management reported positive feedback from both prescribers and patients about Caplyta, the drug developed to treat bipolar depression and schizophrenia. This assertion reinforces the belief that Caplyta is a diversion for patients. They announced strong results from Study 403, in which lumateperone significantly reduced symptoms of major depressive disorder and bipolar depression.
Management also discussed expanding the lumateperone program across major neuropsychiatric conditions, investing in long-acting injectable lumateperone, and developing other pipeline programs such as ITI-1284 and ITI-333. They plan to file a new complementary medicine application [sNDA] in 2024 based on the results of ongoing studies.
The Lumateperone 403 Study: Promising Results for Major Depressive Disorder and Bipolar Depression
The study of lumateperone 403 yielded impressive results, showing a statistically significant and clinically meaningful reduction in symptoms for patients with major depressive disorder. [MDD] And bipolar depression with mixed features. Large effect sizes, of 0.64 and 0.67 across different populations, indicate a medium to large effect, indicative of a notable clinical effect.
The efficacy of Lumateperone is particularly noteworthy in the treatment of mixed features, which represent a severe manifestation of these disorders associated with higher recurrence rates, comorbidities, and poor response to antidepressants. Given these challenges, lumateperone's prominent effect sizes and statistical significance emphasize its promising potential as an effective treatment option.
When compared to currently available treatments, many antidepressants and antipsychotics often report lower effect sizes, typically 0.3 to 0.5 in clinical trials, and are hampered by significant side effects. However, Lumateperone provides a compelling advantage with its well-tolerated safety profile that is consistent with previous studies. Moreover, it also showed a medium-term effect size on the Global Impression Scale of Severity (CGI-S), indicating that clinicians noted a significant improvement in overall disease severity.
Looking at the bigger picture, these strong findings suggest lumateperone's potential to reshape the treatment landscape for both major depressive disorder and bipolar depression with mixed features. This potential is amplified by Intra-Cellular's well-established prescriber relationships, laying a strong foundation for successful market entry, pending MDD approval.
As discussed in our most recent earnings call, Intra-Cellular maintains connections with approximately 43,000 clinicians, primarily psychiatrists, nurse practitioners, and a cross section of primary care providers. Healthcare professionals account for approximately 90-95% of all branded antipsychotic prescriptions for schizophrenia and bipolar depression, representing a significant market share that will be pivotal to lumateperone's potential for MDD.
Remarkably, the vast majority of these 43,000 practitioners also manage a significant number of MDD cases. This existing network provides a unique advantage for Intra-Cellular, allowing it to take advantage of the awareness built around Caplyta when moving to MDD messages, pending approval.
My analysis and recommendations
Investing in the biotech sector is inherently associated with a roller coaster ride of clinical trials and the slopes of patents and drug approvals, making it a highly speculative arena. However, recent performance of intracellular therapies highlights the potential for significant rewards amid these risks. The impressive clinical results from Study 403, indicating the efficacy of lumateperone in bipolar depression and major depressive disorder, and the steady growth trajectory of Caplyta, make for an attractive investment proposition.
The broader implications of lumateperone's success in addressing mixed traits, an area of ​​significant unmet need, are noteworthy. It exemplifies Intra-Cellular's innovative approach to drug development, which could pave the way for the company to capture a significant share of the neuropsychiatric treatment market. The expected MDD approval of lumateperone presents an exciting growth opportunity for Intra-Cellular, especially given its preexisting network of prescribers.
However, relying on Caplyta to generate revenue is a double-edged sword. While it has proven profitable so far, it also raises concerns about the company's ability to maintain momentum in the face of exclusivity expiration and subsequent competition. However, diversifying their pipeline with promising candidates such as ITI-1284 and ITI-333, along with the potential development of a long-acting injectable lumateperone, provides a buffer against the patent cliff and sustains the company's growth narrative.
While Intra-Cellular's cash position is strong, increased research and development expenditures underscore the high-stakes nature of its ongoing and future trials. Despite this, the positive outlook for Caplyta's sales in 2023 and potential market penetration in the MDD segment provide significant opportunities for revenue growth to offset this.
Overall, Intra-Cellular's recent successes and promising prospects outweigh the looming exclusive expiration concerns. The company's strong position in neuropsychiatry, backed by positive clinical trial results, makes it an attractive proposition for investors with a long-term horizon and appetite for risk. Hence, based on the above factors and the expectation of continued growth driven by expanding therapeutic indications, an upgrade from a "Hold" recommendation to a "Buy" is warranted for the stock of intracellular therapeutics, albeit with vigilant attention to the company's patent portfolio, pipeline development, and financial management. .
Thesis risks
When the facts change, I change my mind.
There are several major risks that could challenge my optimism:
Exclusive Expiration: The biggest risk is the imminent expiration of Caplyta's NCE exclusivity in December 2024. Upon expiration, competition from generics could significantly reduce Caplyta's market share, affecting ITCI's revenue streams.

Regulatory Authority Approval: Lumateperone is in Phase 3 trials for the treatment of MDD. However, the FDA may not grant approval, which could delay or stop its market release.

Commercial Success of Lumateperone for MDD: Even if Lumateperone gains regulatory approval for MDD, its commercial success is not guaranteed. The market is crowded with antidepressants, and many have established networks of prescribers. ITCI's ability to market and approve Lumateperone for MDD is considered a significant risk.

Dependence on one drug: ITCI relies heavily on Caplyta to generate revenue. If Caplyta's sales falter due to competition, market dynamics, or other factors, ITCI's financial health could suffer.

Pipeline development: The future growth of ITCI depends on the successful development and commercialization of pipeline candidates such as ITI-1284 and ITI-333. Delays or failures in clinical trials for these drugs pose significant risks.

Material capacity: ITCI posted a net loss in the first quarter of 2023, despite an increase in Caplyta sales. If a company cannot turn to profitability, its financial stability may be in jeopardy.

Expanding the sales force: ITCI's plan to expand its sales force to more suppliers, pending MDD approval, could strain resources and increase costs. The success of this expansion is not guaranteed and may not result in expected increases in revenue.